Add a second strap
With our interchangeable watch straps, you can effortlessly transition from the office to your next exciting adventure!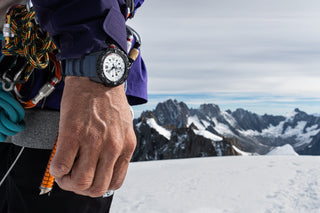 Bear Grylls Mountain
The Bear Grylls Mountain 3730 Series embodies the resilience, courage and unwavering pursuit of the greatest adventures that Bear shows every time he heads out the door. The Series has been designed to withstand a climb to the highest peaks or a dive to depths of 200m below sea level. All watches are water-resistant up to 200 meters and have full Luminox Light Technology for unrivalled reliability in all light conditions.
Bear Grylls Series
The Bear Grylls Survival Collection timepieces are designed to help you survive. Whether it's the countdown dive zone on the Sea watch, 24 timezones from around the world on the Air watches, the walking speed scale on the Land, or SOS in Morse code on the 300-meter water resistant Master series, these timepieces will be your trusty companions and help you conquer any conditions. These special details combine with the legendary ability of Luminox watches to perform in extreme situations, making the partnership with Bear Grylls perfect in every way