ICE SAR
ISLANDIC ASSOCIATION FOR SEARCH AND RESCUE
The ICE SAR team needs tools they can rely on. That's why they chose us as their official timekeeper. With our robust, shockproof construction, high water resistance and high luminosity, Luminox is the right choice.
We present the new
ICE-SAR Arctic 1050 series
The new ICE-SAR 1050 series is equipped with a heart rate monitor. Thanks to the extra-long second hand and the indices on the dial ring, it is possible to quickly determine your own pulse or that of a patient, which is essential for first responders.
Like every other Luminox watch, the ICE-SAR collection is equipped with the unique Luminox Light Technology, which ensures visibility at a glance. In addition, the 6 and 12 are equipped with Super-LumiNova to increase visibility during night operations.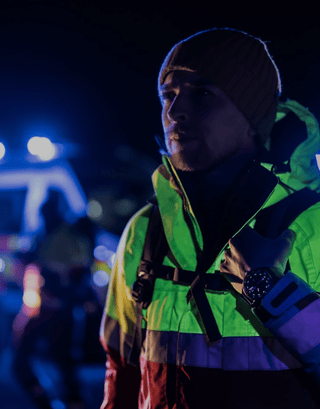 In addition to ice, extreme rainfall and strong winds, ICE-SAR also has to contend with limited visibility due to reduced daylight, as Iceland remains partially or even completely dark for several months during the winter. As an official partner of the Icelandic Association for Search and Rescue Services (ICE-SAR), Luminox is committed to creating watches that meet the needs of these intrepid public sector workers in their day-to-day work - which includes dealing with volcanic eruptions, avalanches, shipwrecks... , mega storms and more.